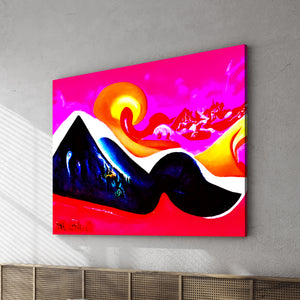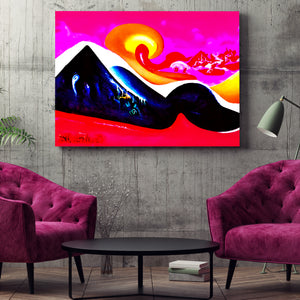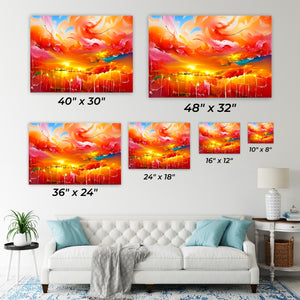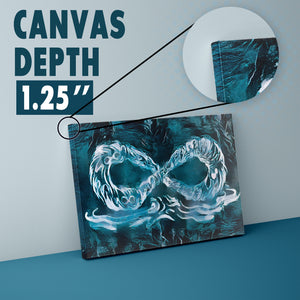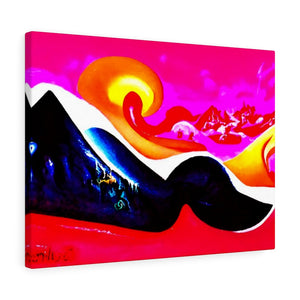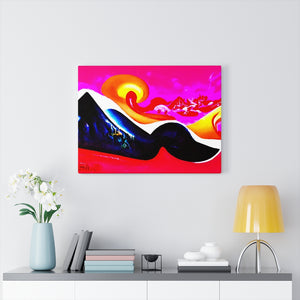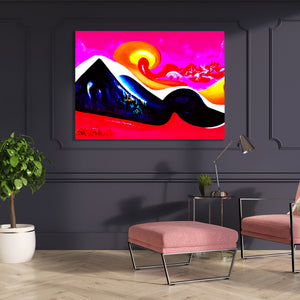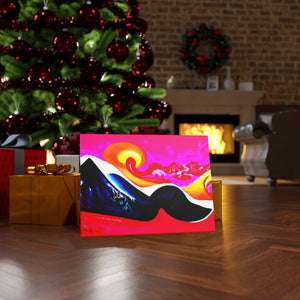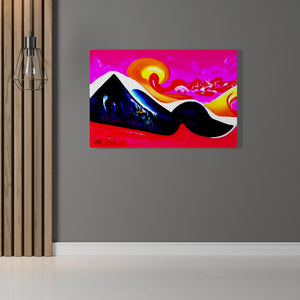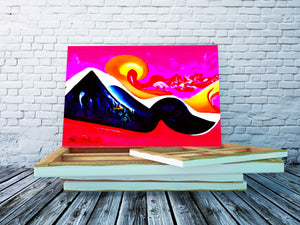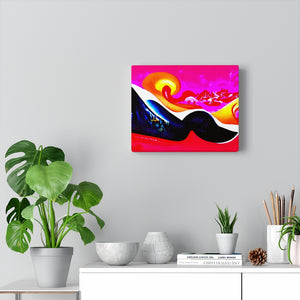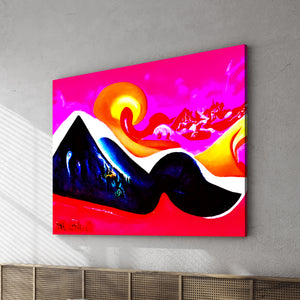 Colorful Infinite Mountains Haze Canvas Art - Surreal Fantasy Landscape | Infinite Soldier
Step into a captivating dreamscape with 'Colorful Infinite Mountains Haze' canvas art by Infinite Soldier. This vibrant artwork reimagines nature, transforming serene mountain vistas into a surreal fantasy landscape of boundless curiosity. With a palette of rich reds, soft pinks, and deep blues, this captivating piece features a dominant pink hue that captures attention and ignites imagination.
Embark on an artistic odyssey through 'Colorful Infinite Mountains Haze.' This canvas art conjures a realm where nature's majesty fuses with surreal allure. Evoking a sense of wonder, this creation presents a scenic mountain view enveloped in an ethereal haze. The composition encourages exploration, inviting you to see nature through a kaleidoscopic lens.
IDEAL LOCATIONS:
Perfect for:
Living Rooms
Bedrooms
Offices
Hospital Art
Meditation Spaces
Art Galleries
FEATURES:
Medium: Finely textured, artistic grade canvas
Presentation: Stretched canvas gallery wrap, mounted over a closed cardboard backing
Indoor Use: Elevate your living space with captivating, surreal presence
Various Sizes: Available from small to large, fitting diverse settings
Depth: Picture depth of 1.25 inches for multidimensional allure
Customization: Optional frames and substrates to match your aesthetic
Premium Printing: Utilizing advanced technology for vivid image reproduction
Ready to Hang: Equipped with sturdy hardware for effortless installation
SHIPPING & DELIVERY:
Enjoy swift delivery, with orders shipped within 3-6 days. During peak periods, please allow up to 2 weeks. For delivery queries, promptly contact our team for assistance.
SUPPORT:
For inquiries about 'Colorful Infinite Mountains Haze' or any product, connect with our team. We're committed to providing timely responses and comprehensive support.
RETURN POLICY:
Your satisfaction is paramount. Although art returns are generally not accepted, quality issues are quickly addressed. Reach out with detailed information and images if you encounter concerns.
ABOUT US:
At Infinite Soldier, our passion fuels creativity and exploration. 'Colorful Infinite Mountains Haze' epitomizes our commitment to reshaping nature's beauty into surreal masterpieces. With an array of inspired creations, we're dedicated to creating a world where art, imagination, and curiosity intersect.
OUR PRODUCT:
'Colorful Infinite Mountains Haze' invites you to transcend expectations. Rendered on artistic grade canvas and presented in a finely textured, gallery wrap style, it beckons you into its surreal narrative. As you immerse yourself in this portrayal, let it spark your sense of wonder and curiosity.
Elevate your space with 'Colorful Infinite Mountains Haze,' a captivating creation that resonates with the fantastical and the curious. At Infinite Soldier, we invite you to join us in celebrating the fusion of art and imagination.