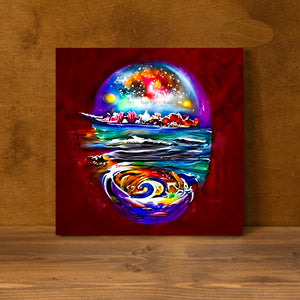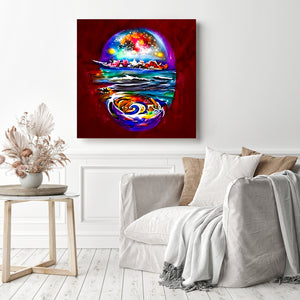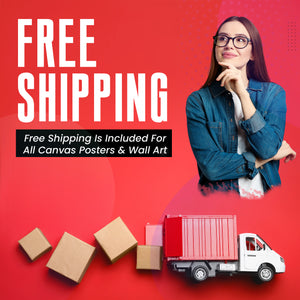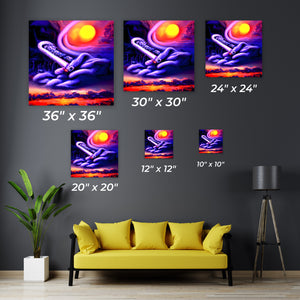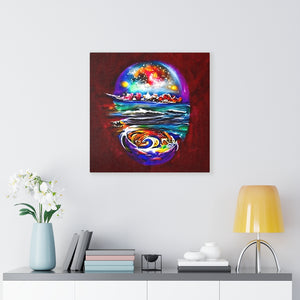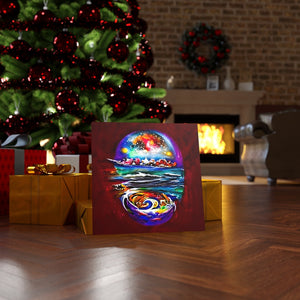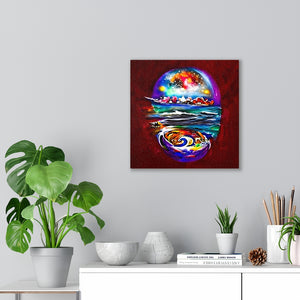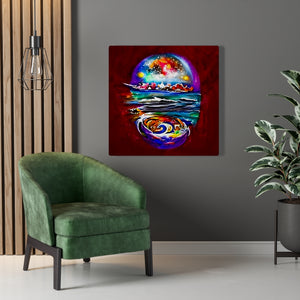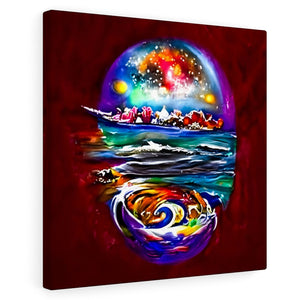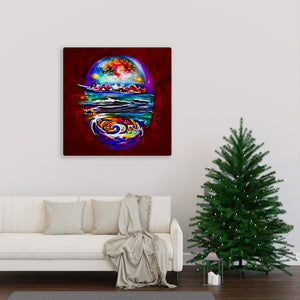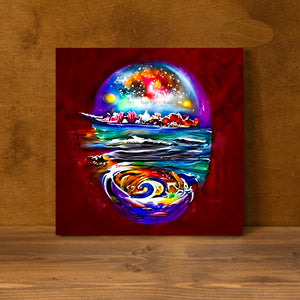 Abstract Planet Earth - Vibrant Galactic Nature Canvas | Infinite Soldier
Elevate your surroundings and spirit with 'Abstract Planet Earth,' an extraordinary canvas art print that harmoniously blends dark burgundy and celestial marvels by Infinite Soldier. This isn't just a canvas; it's a portrayal of a colorful, intricate seascape set against the backdrop of the cosmos.
Embark on a visual odyssey with 'Abstract Planet Earth.' This canvas reimagines the familiar world with an abstract flair, introducing Earth-like features against a deep burgundy backdrop. At its core, an egg shaped earth takes center stage, containing a universe that offers a captivating contrast to our own reality.
Within this cosmic shell, you'll uncover mountains, seas, rocks, and a vibrant, multihued sky. The amalgamation of colors and elements is a testament to artistic ingenuity, inviting you to explore an alternate realm that awakens the imagination.
This impactful wall art isn't just an image; it's an invitation to expand your horizons and embrace the unexplored. Let 'Abstract Planet Earth' serve as a striking focal point, transcending convention to open your mind to limitless possibilities.
Embark on an artistic odyssey with 'Abstract Planet Earth,' a creation where meticulous art converges with the awe-inspiring beauty of the universe. This finely textured, artistic grade canvas captivates the essence of an alternate world, resembling Earth yet adorned with a futuristic, abstract interpretation. The canvas is thoughtfully mounted over a closed cardboard backing, ensuring a polished presentation.
FEATURES:
Medium: Finely textured, artistic grade canvas
Presentation: Stretched canvas gallery wrap, mounted over a closed cardboard backing
Indoor Use: Designed to elevate indoor spaces with its captivating, imaginative presence
Various Sizes: Available from small to large to match diverse settings
Depth: Picture depth of 1.25 inches for a captivating, multidimensional effect
Customization: Optional frames and substrates to suit your preferences
Premium Printing: Employing advanced printing technology for vivid image reproduction
Ready to Hang: Each piece comes with sturdy hardware for effortless installation
SHIPPING & DELIVERY
Experience prompt delivery, with most orders shipped within 3-6 days. During peak periods, kindly allow up to 2 weeks. For inquiries regarding delivery, please don't hesitate to contact us for swift assistance.
SUPPORT
For questions about 'Abstract Planet Earth' or any other product, connect with our dedicated team. We're committed to offering timely responses and supporting you with your queries.
RETURN POLICY
Your satisfaction is our priority. Although returns for art and custom printed items are typically not accepted, quality concerns are swiftly addressed. Should you encounter any issues, connect with us, providing detailed information and images.
ABOUT US
At Infinite Soldier, our fervor lies in positivity and limitless potential. 'Abstract Planet Earth' captures our dedication to creativity and innovation. With a diverse collection of inspiring creations, we're dedicated to shaping a world where art, imagination, and exploration intersect.
OUR PRODUCT
'Abstract Planet Earth' is more than a canvas; it's an invitation to transcend boundaries. Expertly rendered on artistic grade canvas and presented in a finely textured, gallery wrap style, it invites you to delve into its cosmic narrative. As you immerse yourself in this abstract portrayal, let it be your gateway to new horizons.
Elevate your space with 'Abstract Planet Earth,' a captivating creation that resonates with curiosity and potential. At Infinite Soldier, we invite you to join us in celebrating the fusion of art and imagination.