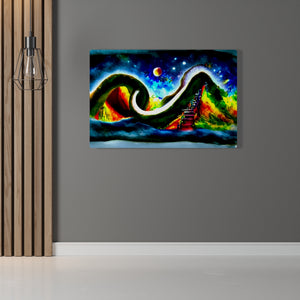 Slide Down Infinite Mountains - Modern Abstract Night Art | Infinite Soldier"
Immerse yourself in the mesmerizing world of 'Slide Down Infinite Mountains,' a captivating modern abstract airbrushed art piece by Infinite Soldier. This watercolor artwork transports you into a realm where mountains ripple in perpetual motion, infused with vibrant colors against a captivating night sky. An abstract stairway leads to the trough of the curved mountain.
Artwork Description: Unlock the secrets of the time traveler's realm with 'Slide Down Infinite Mountains.' This modern abstract art piece showcases undulating mountains in an eternal dance, embellished with a palette of rich and vibrant hues. Envision a night of boundless beauty, as mysterious planets and stars illuminate the cosmic expanse above.
Key Characteristics: Street Art | Colorful Airbrush Art | Watercolor | Cosmic Moonscape | Spiraling
Features:
Medium: Finely textured, artistic grade canvas
Presentation: Stretched canvas gallery wrap for a professional finish
Indoor Enchantment: Transform your space with the allure of a unique nightscape
Various Sizes: Choose from small to large to match your living environment
Multidimensional Depth: Picture depth of 1.25 inches for an immersive experience
Vibrant Palette: Cosmic hues that mesmerize, from vibrant colors to dark surroundings
Evocative Imagery: A staircase leading to the infinite mountain top, inviting discovery
Ready to Showcase: Equipped with sturdy hardware for effortless installation
Artistic Journey: Embark on a visual odyssey through 'Slide Down Infinite Mountains.' This canvas art celebrates the harmonious play of form and color. The cascading mountains and otherworldly moonscape evoke a sense of wonder, inviting you to explore the unknown with each brushstroke.
Ideal Spaces: Perfect for enhancing living rooms, bedrooms, offices, creative studios, and art galleries.
Shipping & Delivery: Expect prompt delivery, with orders dispatched within 3-6 days. During peak periods, kindly allow up to 2 weeks for delivery. Should any inquiries arise regarding shipping, feel free to contact our dedicated team.
Support: For queries about 'Slide Down Infinite Mountains' or any product, connect with us. We're committed to providing timely responses and comprehensive assistance.
Return Policy: Your satisfaction is paramount. While art returns are generally not accepted, quality concerns are swiftly addressed. Reach out with detailed information and images if you encounter any issues.
About Us: At Infinite Soldier, our passion fuels creativity and boundless exploration. 'Slide Down Infinite Mountains' exemplifies our commitment to crafting unique art that ignites imagination. With an array of inspired creations, we strive to create a world where art, curiosity, and enchantment intersect.
Artistic Vision: 'Slide Down Infinite Mountains' invites you to embark on an artistic journey. Crafted on artistic grade canvas and presented in a finely textured, gallery wrap style, it beckons you into its mesmerizing narrative. Immerse yourself in this portrayal and experience a cascade of color and cosmic wonder.
Elevate your surroundings with 'Slide Down Infinite Mountains,' an enchanting creation that resonates with the mystique of the cosmos. At Infinite Soldier, we invite you to embrace the fusion of art and imagination as you explore our captivating collection.