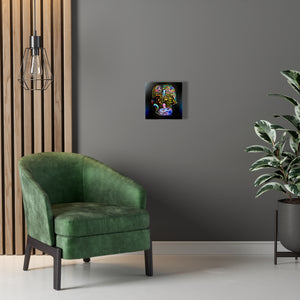 Infinite Nebula Soldier Canvas Poster
Introducing the Nebula Soldier - a colorful abstract poster of a symbolic face of an infinite Nebula Soldier. The face is mysterious, blending camoflouge of colors with a sharp gaze, a mysterious mask and a background of nebulous swirls. This piece of art is designed to evoke strength, courage and motivational thoughts. The Nebula Soldier is an inspirational wall art with a strong and symbolic message that can be hung up in any home, office or other environment.
This motivational wall art is produced using artist grade cotton, which is then stretched over a durable 17-mil artist canvas. The canvas is then wrapped around a closed cardboard backing and is ready to hang. It is light and durable, perfect for those who want to hang up a piece of art that can last for years. Infinite Soldier has various sizes available, from small to large wall art. You can choose the size that fits the look and feel of your environment, or the one that best fits the size of your wall. No matter what size you choose, you can be sure that you will get a high quality piece of art that will look great and last a lifetime. This piece of art is also AI enchanted artwork.
The Nebula Soldier is perfect for anyone who wants to make a statement in their home or office. It is the perfect piece of art to inspire courage and strength and motivate you to achieve your goals. This art is sure to spark meaningful conversations and will be a great addition to any home. So, if you are looking for a piece of art that is unique, inspirational and long-lasting, the Nebula Soldier is the perfect choice. The combination of colors, the mysterious mask and the nebulous swirls are sure to make a statement in any home or office.
Average turnaround: 4-8 Days