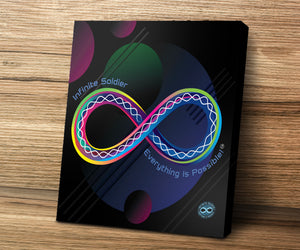 Neon Infinity Symbol Mounted Canvas Art Poster Print
Neon Infinity Symbol Canvas art is the newest collection of infinity symbol art prints from Infinite Soldier. This is a must have for anyone who loves the infinity symbol and the endless possibilities that it represents. Our main theme is the infinity symbol and our message promotes the idea that our words and thoughts create our world. What we say and what we think, becomes our reality. 
Printed on a high quality stretched canvas print is printed and mounted on a light and durable 17mil Artist Canvas with durable stretcher bars. 
Available Sizes: 12" x 12", 24" x 24", 36" x 36"
Please allow up to 2-4 business days to print and ship.