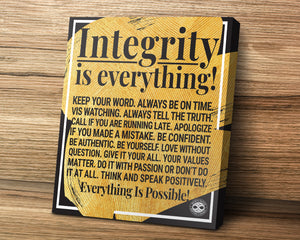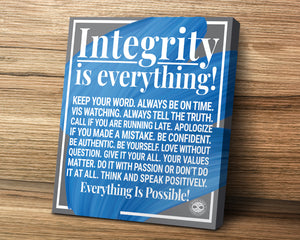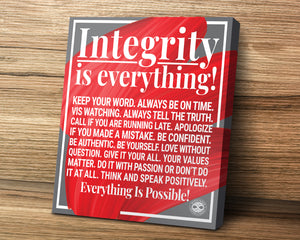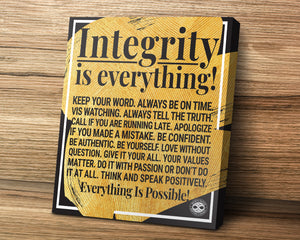 Integrity is Everything Mounted Canvas Print - Assorted Colors
Stay motivated and inspired with the 'Integrity Is Everything' motivational canvas art poster print from Infinite Solider. We all need a bit of help staying motivated. Keeping this positive message in front of you will help! This inspirational mounted canvas print will add life to any wall. It is ideal for your home, office or gym. 
The canvas print reads:
Integrity Is Everything! 
Keep Your Word. Always Be On Time. Do The Right Thing, Even When No One is Watching. Always Tell The Truth. Call If You Are Running Late. Apologize If You Made A Mistake. Be Confident. Be Authentic. Be Yourself. Love Without Question. Give It Your All. Your Values Matter. Do It With Passion Or Don't Do It At All. Think And Speak Positively. Everything Is Possible! 
Printed on a high quality stretched canvas print is printed and mounted on a light and durable 17mil Artist Canvas with durable stretcher bars. 
Available Sizes: 12" x 12", 24" x 24", 36" x 36"
Please allow up to 2-4 business days to print and ship.